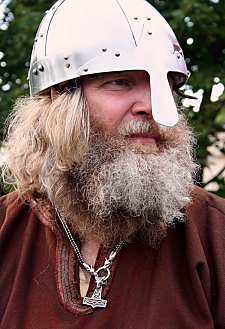 Dr. William R. Short is an author and independent scholar specializing in Viking-age topics, notably medieval Icelandic literature, Viking-age material culture, Viking-age weapons, and Viking-age combat techniques.
Dr. Short researches, practices, teaches, and demonstrates the fighting moves of Viking-age warriors at Higgins Armory Museum, and at other museums, universities, and cultural institutions in North America and Iceland. This teaching has led to the creation of a series of Viking combat training DVDs, of which volumes 1, 2, and 3 have already been released.
Viking Weapons and Combat Techniques, a book that summarizes his research results, is now out-of-print, published by Westholme Publishing.
Icelanders in the Viking Age: The People of the Sagas is a companion and introduction to the Sagas of Icelanders and is now available, published by McFarland & Company.
Other books and DVDs on Viking age topics by Dr. Short are in progress and in the planning stages.
Dr. Short presents on Viking-age topics at universities, schools, museums, and other cultural institutions.
now available:
Hurstwic® Viking Combat Training DVDs
Volume 1: Fundamentals,
Volume 2: Advanced, and
Viking Fighting Moves from the Sagas
now available:
Icelanders in the Viking Age: The People of the Sagas

available fall, 2014:
Viking Weapons and Combat Techniques

now available:
Die Wikinger
Personal Appearances
Web articles on the Hurstwic site
planned for 2015:
Hurstwic® Viking Combat Training DVD volume 4